5th Uchinanchu Festival Dedicatory Karate and Dance Performance at Shuri Castle
A view of the climb.
I had the opportunity to attend the dedicatory Karate demonstration at Shuri Castle on October 12, 2011 as a part of the 5th Uchinanchu Festival. What an incredible feeling to be standing in front of Shuri Castle watching Karate performed by top masters. It wasn't all that long ago that this was literally the only place in the world that you could even see Karate! The Masters that performed are all holders of the title of "Preservers of Important Intangible Cultural Properties."
All in all, there are a lot of bricks
in these walls...
The Castle is amazing and beautiful, perched high above the city, providing a full view from within its massive stone walls. I couldn't help but think with each step of the spiraling ascent, how little I would care to attack this structure in armor with archers above. They probably thought of that as well.
Still climbing...
Watching over the festivities held in the "King's" honor.
Once we finally reached the Castle, I was standing in the very place I've looked at so many times in books, where the greatest masters have stood before me, and indeed on this day, with me. At this heavily attended event, many Okinawan traditions and customs were presented to the world including traditional folk music, dancing, and of course, Karate. Traditionally, the King and his concubine would watch over such an event through an otherwise closed window.
This event of course, was no different. Actors portraying them presided over the event with stern approval.
From here on, there isn't very much to say that I can't say with captions, so for the most part I will let the photos speak for themselves... I unfortunately have been unable to determine the names and styles of the participants except where noted in the captions that follow. If you know with certainty who the performers are and what system, please let me know and I will update accordingly. Also if they should be in your system, email me if you want more photos of a specific master's performance, I only included a few here.
Hopefully you will get a feel for what it was like to be there that day, and how beautiful and amazing Shuri Castle, and Okinawa in general, are.


A Sanshin player.
The dancers prepare for a beautiful performance
Lining up to show respect before the official commencement
One of my favorite performers, there is just something about the intensity...
Naihanchi Shodan performed
The deck was remarkably slippery due to some light but constant rain as the Karate demo began.
Master Yagi of the Meibukan preparing for his performance
Seiyunchin

Kata performed
Master Yagi trained directly with Chojun Miyagi
The only good part of Karate Kid 3...
More gorgeous and serene vistas to enjoy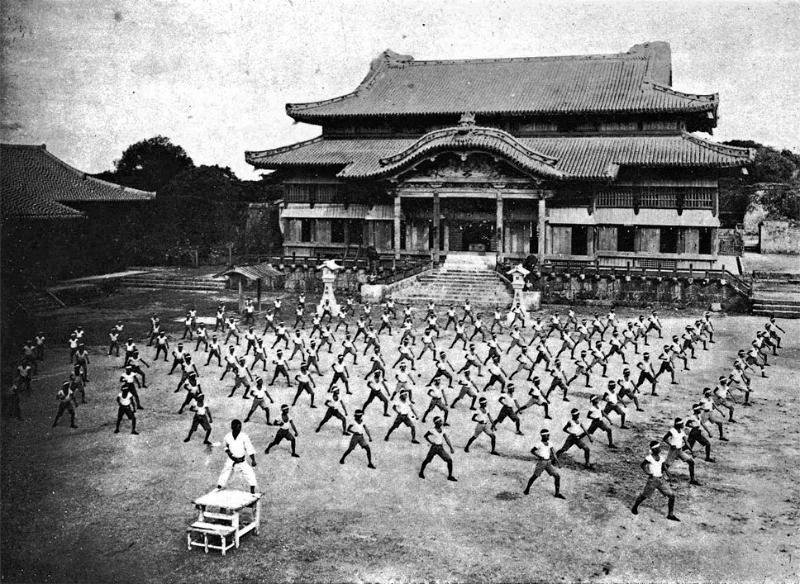 To provide perspective, to take the above photos, I stood literally in the fifth row from the right in this photo!




All photos, except the famous photo directly above, were taken by the author.